Friday, April 3, 2015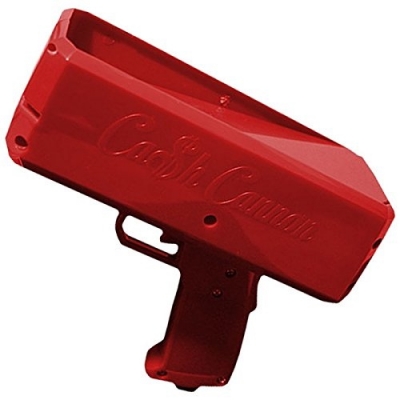 An instrument that helps make it easier to "make it rain":
Cash Cannon
, from
The Party Store
The Cash Cannon is a toy that dispenses paper items in a rapid but user controlled manner. The preferred item of choice to dispense is of course cash but any item that fits in the loading compartment and out of the slot will work with the device. The Cash Cannon is the first device that performs this function and is simple enough in terms of design to be mass manufactured for the public use.

Lift the top cover open, place the items in the loading compartment, and pull the trigger. Make sure you aim in the direction you want the items to be dispensed. The device uses a simple motor and rubber roller assembly that causes enough friction to move us dollar bills and other items smoothly out of the slot. The ergonomic handle gives the user a good control of the loading compartment and the direction the items are released in. The squeeze trigger allows the user to control the frequency at which the items are dispensed. And to top it all off it operates using just one 9 volt battery.