Tuesday, November 3, 2009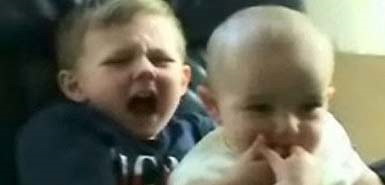 Here's what the Internet can do to you:
Harry and Charlie Davies-Carr: Web gets taste for biting baby
:
It may be child's play but it has made Harry and Charlie Davies-Carr two of the most recognisable Britons in the world — and earned their parents tens of thousands of pounds.

A video of Harry, three, having his finger bitten by Charlie, one, as they sit in a chair racked up its 130 millionth hit last week to become the most watched item in the history of YouTube, the video-sharing website.

The brothers now have their own blog, video series, T-shirt concession and even a limited edition calendar.

Their success shows the increasing power and earning potential of internet stardom. While a video aired on Harry Hill's You've Been Framed programme on ITV earns £250 for the person sending it in, web experts believe the Davies-Carrs could be on their way to a £100,000 windfall, largely from adverts placed on screen around the video.