Monday, September 28, 2009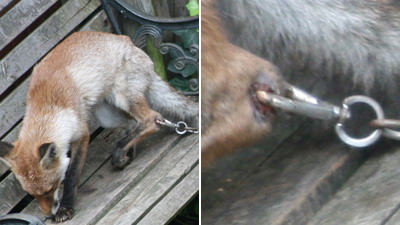 It's understandable when
you do it to yourself
, but this is just completely wrong.
Urban Fox Hunting: The Photo Evidence
:
Campaigners have released a picture of a cub discovered with a chain threaded through one of its hind legs.

A hole had been drilled through the animal's flesh after it was caught by poachers in south east London.

It is feared that fighting dogs are being let loose on the trapped animals either for "fun" or as practice for illegal fights.

The animal in the picture above - named Jingles by rescuers - managed to chew through the leather strapping on the chain and escape its captor.