Wednesday, February 6, 2019
Map and Pop Culture enthusiast, and big fan of the Coppolas,
Dylan Narqvist
, takes us through the prominent family's work in film, in his graphic
The #Coppola Family: An Interconnected #Cinema History
.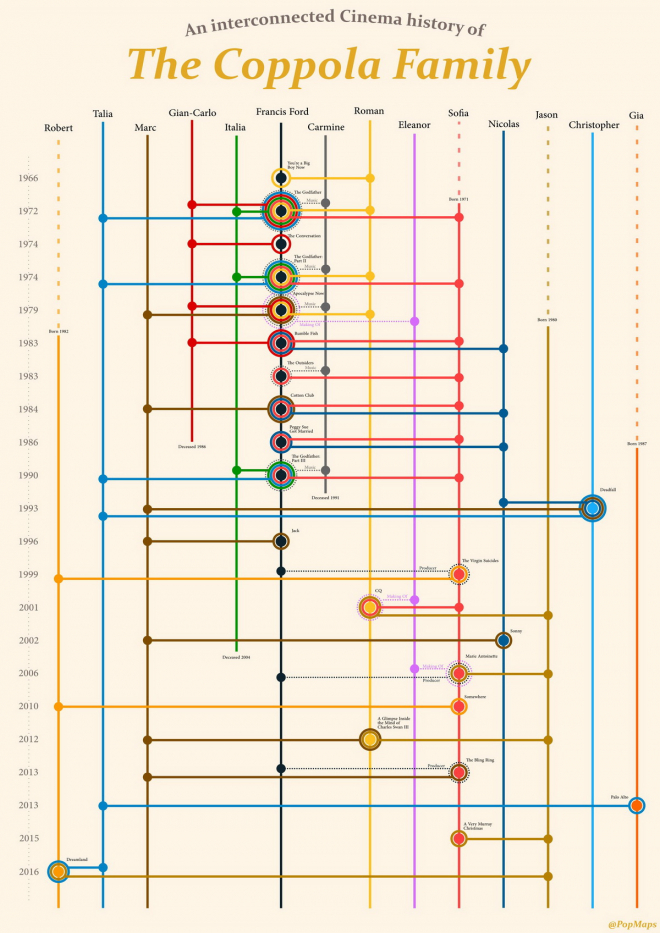 enlarge
Dylan offers some more info on
the Coppolas
, after
sharing his infographic on Reddit
.
The members of the family are the following :
- Francis Ford Coppola (used as a reference);
- Eleanor, his wife;
- Carmine and Italia Coppola, his parents;
- Talia Coppola (Talia Shire), his sister;
- Sofia, Roman and Gian-Carlo Coppola, his children;
- Gian-Carla Coppola (Gia Coppola), his granddaughter;
- Marc, Christopher and Nicolas (Nicolas Cage) Coppola, his nephews on the brother side;
- Jason Schwartzman and Robert Coppola Schwartzman, his nephews on the sister side.

Only the movies where at least 2 of them are involved are shown, which explained why some Coppola masterpieces like Lost in Translation are not displayed here, sadly.

In case it's not as obvious as I thought :
- A full Circle means the person directed the movie;
- Outer Rings mean acting inside the movie (even not credited small parts);
- Dotted Outer Rings are other actions (producing, music, etc.), always specified.
(
larger version
)