Monday, December 12, 2016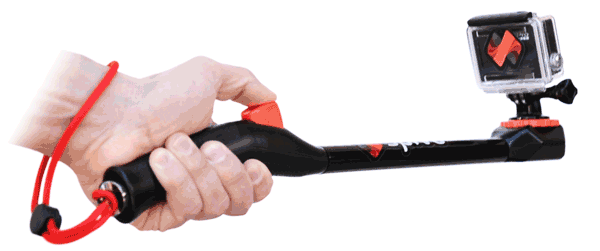 The
Spivo Stick
for
GoPro
,
Sony Action Cam
,
Garmin Virb
or any compact camera with a 1/4-20" tripod screw, allows you to easily switch the field of view of your camera by simply pressing a button.
Changing the camera angle shouldn't be hard. With the Spivo Stick you can effortlessly click the button to easily switch between filming yourself and your surroundings. Capture the whole moment and create awesome memories from a new perspective.

Mount any camera, including all GoPro's Ergonomic grip tailored for your hand Features: Weather and corrosion resistant Rugged polycarbonate design Fully mechanical, no batteries needed Specifications: Waterproof up to 200 ft (60 m) Lightweight: weigh under 6.5 oz (< 180g) 1/4-20" universal tripod mounting system Adjustable wrist-strap Included 1x Spivo Stick 1x GoPro Tripod Mount 1x Adjustable Wrist-Strap.
More -
here