Friday, August 29, 2014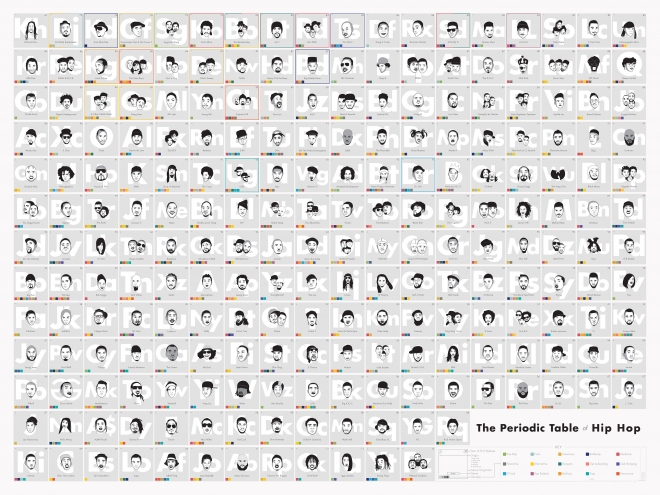 enlarge
In collaboration with the
AC3 Hip Hop Festival
coming up in Atlanta, on October 8-12,
Pop Chart Lab
has created
The Periodic Table of Hip Hop
, featuring 223 of the biggest names of the genre.
Produced in conjunction with A3C, hip-hop's biggest stage, this tabular arrangement of eminent MCs catalogues 223 naturally occurring, never-word-slurring artists in all, from N(as) and (Dr) Dre to (Mf) Doom and (A$)AP Rocky to (D)rake and Snoop D-O-(gg). Featuring color-coded labels indicating their favored genres--with special indicators for originators of a style--each MC has been meticulously hand-illustrated and assigned an appropriate chemical symbol, along with notations for debut year and geographic area of origin. Boasting chemistry like no science class has ever seen, this fly-entific periodic table swaps halogens and noble gasses for rap's hallowed-gents and noble lasses—and is sure to be enjoyed far more than periodically.
via