Monday, January 20, 2014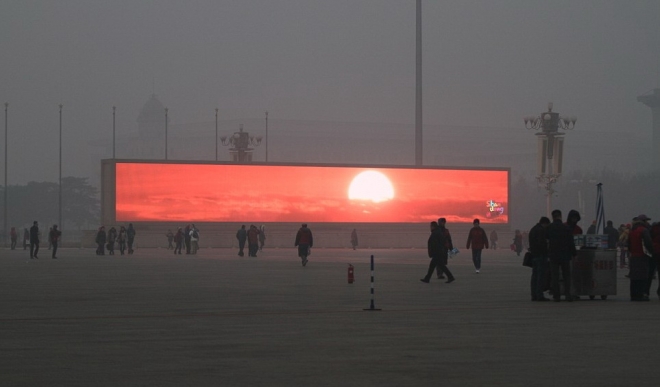 The air in the Chinese capital has reaches such a high level of pollution that large wide billboard screen have been installed to display the sunrises in the morning.
The futuristic screens installed in the Chinese capital usually advertize tourist destinations, but as the season's first wave of extremely dangerous smog hit - residents donned air masks and left their homes to watch the only place where the sun would hail over the horizon that morning.

Commuters across Beijing found themselves cloaked in a thick, gray haze on Thursday as air pollution monitors issued a severe air warning and ordered the elderly and school children to stay indoors until the quality improved.

The density of PM2.5 was about 350 to 500 micrograms Thursday midmorning, though the air started to clear in the afternoon. It had reached as high as 671 at 4 a.m. at a monitoring post at the U.S. Embassy in Beijing.

That is about 26 times as high as the 25 micrograms considered safe by the World Health Organization, and was the highest reading since January 2013.
Daily Mail