Friday, June 14, 2013
This letter was discovered by somebody in Oregon inside a box of "
Totally Ghoul Graveyard Kit
" Halloween decorations bought at Kmart and opened last October.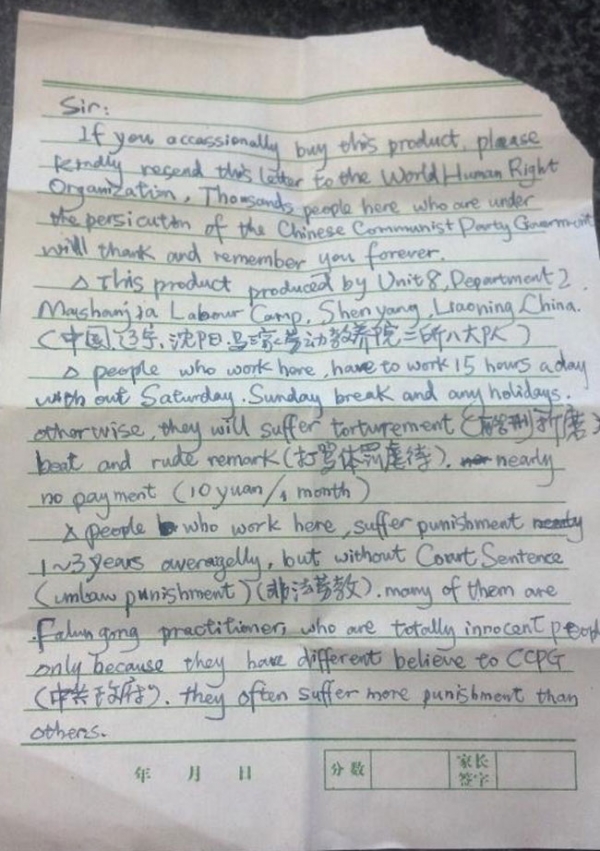 After its finder posted the note on Facebook, some considerable international news media coverage and widespread attention followed, and after some speculation on the letter's authenticity, its author came forward, a 47-year-old former inmate at the Masanjia Labor Camp, in the Liaoning province of China.
The man, a Beijing resident and adherent of Falun Gong, the outlawed spiritual practice, said it was one of 20 such letters he secretly wrote over the course of two years. He then stashed them inside products whose English-language packaging, he said, made it likely they were destined for the West.

"For a long time I would fantasize about some of the letters being discovered overseas, but over time I just gave up hope and forgot about them," said the man, who asked that only his surname, Zhang, be published for fear of reprisal.

His letter-writing subterfuge was complicated and risky. Barred from having pens and paper, Mr. Zhang said he stole a set from a desk one day while cleaning a prison office. He worked while his cellmates slept, he said, taking care not to wake those inmates — often drug addicts or convicted thieves — whose job it was to keep the others in line. He would roll up the letter and hide it inside the hollow steel bars of his bunk bed, he said.

There it would remain, sometimes for weeks, until a product designated for export was ready for packing. ""Too early and it could fall out, too late and there would be no way to get it inside the box," said Mr. Zhang, a technology professional who studied English in college.

More -
New York Times