Thursday, May 23, 2013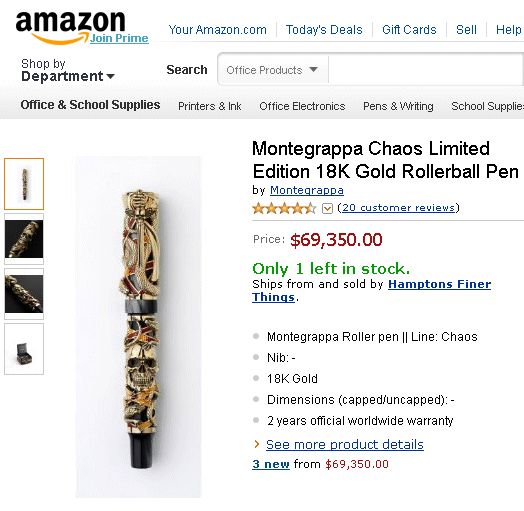 Keep it classy with this slightly more expensive 18-karat gold version of
Sylvester Stallone's Montegrappa Chaos pen
.
The body of the pen is made of black pearlized celluloid with overlays in solid 18K gold. The overlays are finished by hand by Montegrappa's skilled craftsmen and feature an antiqued finish with accents in red and yellow translucent enamel to represent the colors of fire. The pen design is characterized by the juxtaposition of life and death; with reptiles representing the early forms of life on Earth, and the skull signifying death. The ultimate defining detail, bearing both a fist and a skull, is the pen's clip in the form of a sword.

The "Chaos" pen is the first from the "Cult" collection and is available as a limited edition of 100 roller balls in solid 18K gold .
Only one left in stock so you better hurry!
Montegrappa Chaos Limited Edition 18K Gold Rollerball Pen
Also:
Some screws
via