Thursday, February 9, 2012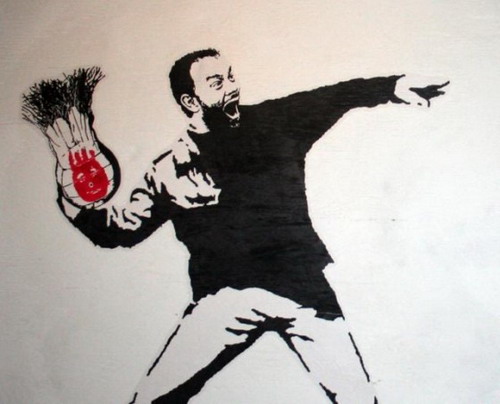 The Awl's EA Hanks, Tom Hanks's daughter, sits down for a couple of questions with Chicago/NYC street artist
Hanksy
, who, in actuality, is a huge fan of both Tom Hanks and Banksy.
EA: Thinking about doing street art, or talking about it, is one thing—going out on the street and actually doing it is another. What got you actually doing it?

Hanksy: Like anything in life, things are easier said than done. I've always wanted to attempt Newman's own Cool Hand Luke egg challenge. But I doubt I'll actually ever get around to hard-boiling the eggs. For Hanksy, it was a very funny pun—something that I, and those who I first showed it to, got a good chuckle out of. Usually things like this exist on the internet. Tumblr is full of things similar. But seeing as how it's based upon one of the world's most famous street artists, it felt right like it should be on some crumbling NYC brick wall, not a vertical scrolling blog. Then the reaction itself, both in real life and online, was incredibly interesting. The positive and negative comments, to watch it spread like it did, is what kept the concept's personality going.


EA: What was the first Hanksy piece you made?

Hanksy: It was a Banksy rat adorned with the head of a smiling T. Hanks, on the corner of Mulberry and Kenmare in Lower Manhattan. The next day, someone walked by it, snapped a photo, and sent it over to Wooster Collective. From there it just picked up speed.
An Interview with Hanksy
|
via