Wednesday, July 28, 2010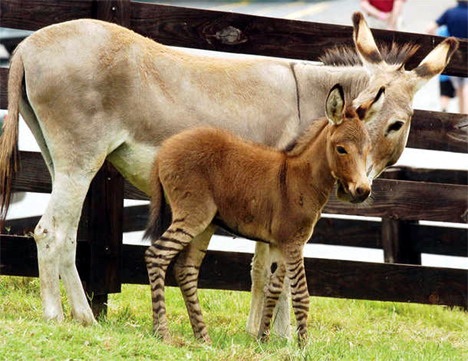 Zenkey? Donbra? The guys from Chestatee Wildlife Preserve, where it was born, call it a 'zedonk'.
It turns out, the zebra/donkey romance has been many years in the making, but somehow the duo managed to keep it a secret. "The animals have been running (in the fields) together for more than 40 years, but this is the first time that this has happened here," says the preserve's founder. "We never suspected that they (had mated), so it was quite a surprise when the zedonk was born."

While the mating may have been a well-kept secret, there's little mystery about which characteristics the baby zedonk inherited from her zebra father and which came from her donkey mother. With the distinctive black stripes of a zebra on her legs and face, and the narrow head of a donkey, the wildlife preserve's newest resident looks to be a perfect hybrid.
Treehugger