Friday, December 18, 2009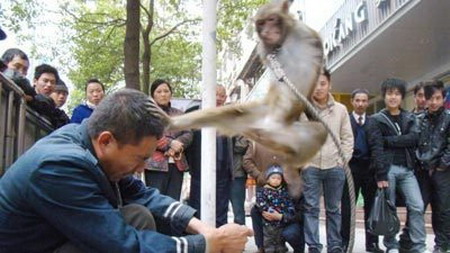 Kung fu monkeys turn tables on trainer
:
A Chinese man who trained monkeys martial arts to entertain shoppers was shocked when they turned the tables on him.

Lo Wung's taekwondo monkeys have become a regular feature outside a shopping centre in Enshi, Hubei province, where they were trained to show off their martial arts skills on each other.

But one quick-thinking monkey saw his chance when Lo slipped - and caught him with a perfect flying kung fu kick to the head. The rest then joined in the affray.

Hu Luang, 32, who caught the incident on camera, said: "I saw one punch him in the eye - he grabbed another by the ear and it responded by grabbing his nose.

"They were leaping and jumping all over the place - it was better than a Bruce Lee film."