Friday, October 9, 2009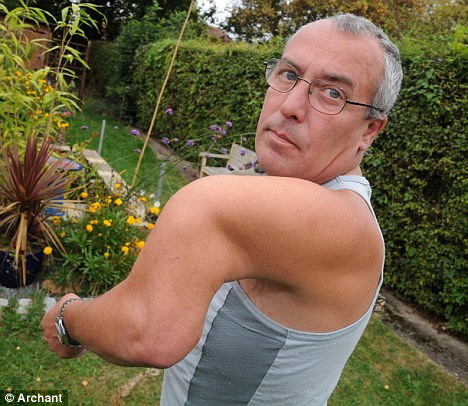 Plumber with shattered arm left horrifically bent out of shape has operation 'cancelled four times'
:
His left arm has hung limply by his side since he fractured the humerus bone in December 2008.

Torron Eeles, 50, has been left unable to work since falling down the stairs and now fears he may lose his home after being denied incapacity benefit.

The father-of-three today hit out at the NHS for the 'unacceptable delays', but East and North Hertfordshire NHS Trust said Mr Eeles had his operation cancelled on 'only' two occasions on clinical safety grounds. His third operation in February was postponed after he was found to have high blood pressure, while the fourth, scheduled for May, was abandoned because of concerns about his smoking.

Mr Eeles, from Welham Green, Hertfordshire, applied for employment and support allowance but a doctor ruled he is ineligible for both because he can turn on a tap.

He said: 'This whole situation is absolutely disgusting. I have never heard of anyone else having a broken arm for ten months.

'It's been so long the bones have knitted back together. Sleeping is really uncomfortable because whenever I roll over my arm gets in the way.