Friday, October 16, 2009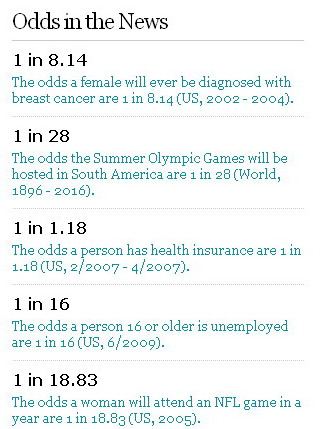 Book of Odds is the world's first reference on the odds of everyday life. It is a destination where people come to learn about the things that worry or excite them, to read engaging and thoughtful articles, and to participate in a community of users that share their interests and ambitions.

For over three years we have been building what we believe is the missing dictionary, one filled not with words, but with numbers – the odds of everyday life. It contains hundreds of thousands of Odds Statements, from the odds of being the only one to survive a plane crash, to the odds of having a heart attack, to the odds of having ever eaten cold pizza for breakfast. Book of Odds not only allows you to search for those odds that concern or interest you the most, but also to understand probability by comparing the odds of unfamiliar events to others you have personally experienced. Book of Odds was built for you, and we hope you'll enjoy it.
Book of Odds
|
via