Tuesday, May 5, 2009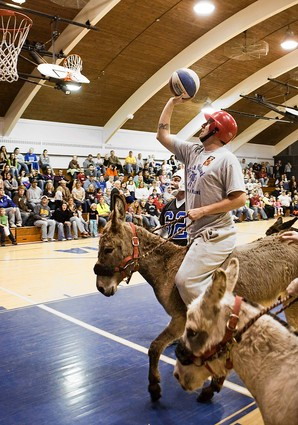 That's right.
Donkey basketball endures despite some protests
:
Invented in the 1930s, the "sport" where humans mount the beasts of burden and shoot hoops was seen as affordable Depression-era entertainment. The game morphed through the years into a popular fundraising vehicle for schools and other organizations.

Donkey ball proved to be a popular draw in Moravia. The town's population is 680, and there were 600 in the gym.

A donkey might buck, or it might duck, causing its rider to slide off. Sometimes, the donkey just decides to lie down.

Players are allowed to dismount and pull a donkey by its lead. The donkeys, of course, are reluctant to budge.
via