Tuesday, April 28, 2009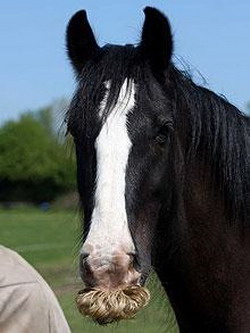 Doesn't want to get a shave.
Moustachioed horse evades barbers
:
Alfie, a 10-year-old Shire-cross, is said to flee if he thinks he is in danger of getting even a trim.

The horse also refuses to let staff at the stables in Bitton, Gloucestershire, into his stall there for fear that they will remove his whiskers.

"He's obviously rather proud of his facial hair,"

"He runs a mile if he thinks we're going to trim it."