Tuesday, April 7, 2009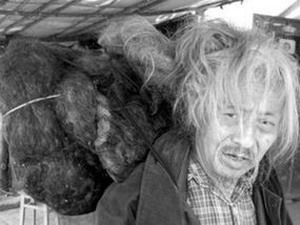 He says it's good for the health.
HOW TO STAY HEALTHY... DON'T CUT YOUR HAIR
:
The medic, 79, made the link between healing patients and not trimming his locks more than 60 years ago.

Traditional Chinese medicine practitioner Peng Fu said: "I stopped cutting my hair and people started to get better."

"My medicine became more effective the longer I let my hair grow. Now I will never cut it."

The hirsute healer now has to carry his eight-pound mane rolled up in a bag on his back, according to the Austrian Times. It stretched nearly nine feet the last time he measured.