Tuesday, March 3, 2009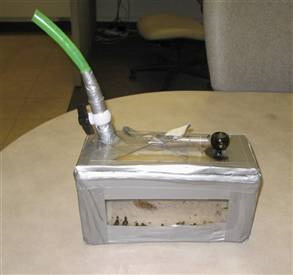 His cat was really hyper acttive so he tried to cool it down by stuffing it into his bong and smoking some weed.
Msnbc
:
Lancaster County sheriff's deputies responding to a domestic disturbance call Sunday alleged they saw 20-year-old Acea Schomaker smoking marijuana through a piece of garden hose attached to a duct-taped, plastic glass box in which the cat had been stuffed.

"This cat was just dazed," Sgt. Andy Stebbing said. "She was on the front seat of the cop car, wrapped in a blanket, and never moved all the way to the humane society."

Schomaker told deputies 6-month-old Shadow was hyper and he was trying to calm her down. The contraption she had been stuffed inside was 12 inches by 6 inches. Shadow was timid but in good condition Monday at the Capital Humane Society, executive director Bob Downey said.