Friday, August 10, 2012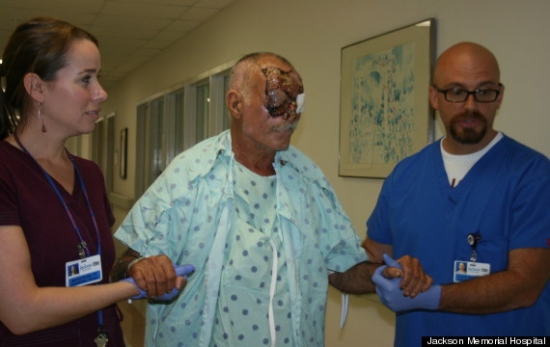 Ronald Poppo, the man who got his
face chewed off by an attacker on drugs
on MacArthur Causeway, in Miami, two months ago, spoke for the first time about the incident.
"He attacked me," Poppo said of Rudy Eugene. "He just ripped me to ribbons. He chewed up my face. He plucked out my eyes. Basically that's all there is to say about it."

"For a very short amount of time I thought he was a good guy," Poppo said. "But he just went and turned berserk. He apparently didn't have a good day at the Beach and he – he was coming back. And I guess he took it out, took it out on me or something. I don't know."

[...]

Sgt. Williams asked Poppo what Eugene was saying when he attacked him.

"'You, me, buddy, and nobody else here,'" Poppo recalled. "'I'm gonna — gonna kill you.' Or something like that, I guess."

"Did he say why?" Williams inquired.

"No, he just started to scream," Poppo explained. "And was talking kind of funny talk for a while too."

"What do you mean by funny talk?" Williams asked.

"That I was gonna die. And he was gonna die," Poppo said. "He must have been souped up on something."
Read the rest of the interview,
on CBS Miami