Tuesday, May 31, 2016
Back in 1992, ex-
Top Gear
presenter
James May
got fired from his job as a writer for
Autocar
magazine, for publishing a hidden message spelled out with the first letters of the reviews he wrote.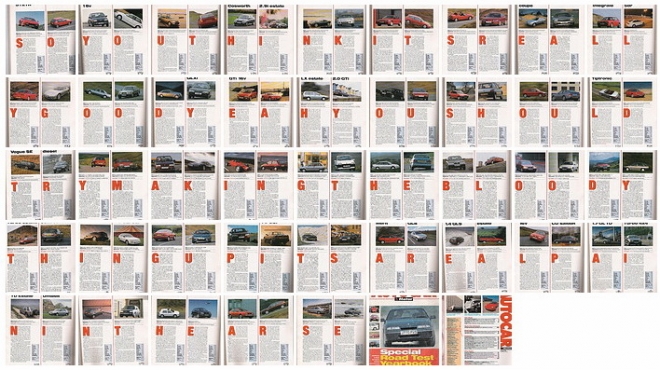 From
Wikipedia
:
In an interview with Richard Allinson on BBC Radio 2, May confessed that in 1992 he was dismissed from Autocar magazine after putting together an acrostic in one issue. At the end of the year, the magazine's "Road Test Year Book" supplement was published. Each spread featured four reviews and each review started with a large red letter (known in typography as an initial). May's role was to put the entire supplement together, which "was extremely boring and took several months".

To alleviate the tedium, May wrote each review such that the initials on the first four spreads read "ROAD", "TEST", "YEAR" and "BOOK". Subsequent spreads seemingly had random letters, starting with "SOYO" and "UTHI". However, the eagle eyed or curious would soon notice that the letters did in fact spell out a message. May's original message, when punctuated, reads: "So you think it's really good, yeah? You should try making the bloody thing up; it's a real pain in the arse." The editors of Autocar missed the 'joke' and only became aware of it when readers started calling in about it, thinking there might be a prize.
You can see the original pages of the spread -
here
via