Friday, January 22, 2016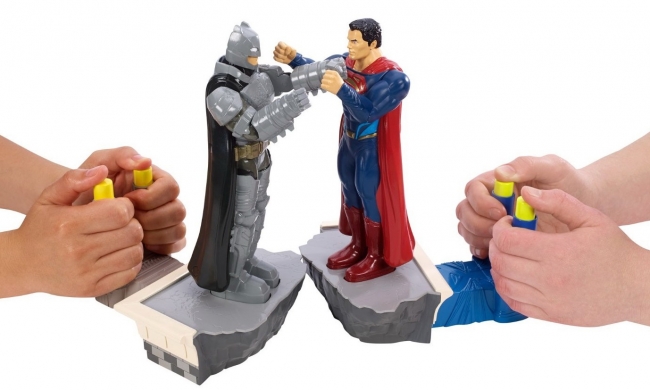 In anticipation of the upcoming
Batman v Superman: Dawn of Justice
that's hitting theaters soon,
Mattel
has released a
Rock 'Em Sock 'Em Robots: Batman v. Superman Edition
game:
You know Rock 'Em Sock 'Em Robots, but now Batman and Superman are duking it out! Players try to move the two legendary superheroes into position and hammer the other until one goes "flying!" Skillfully placed hits will send the other hero right off the platform! Battle it out in the ultimate showdown with realistic sounds and jaw-jolting action. Land a superhero-worthy punch to be declared the winner and hear the victorious K.O. sound. Designed for two players, this exciting game lets each opponent control his superhero by operating the corresponding mechanism with his or her thumbs. Push the right button to deliver a right hook, or push the left to punch with your hero's left arm. You can also shift your superhero's position in the ring by moving the controls left and right. Kids control the intensity of the battle with their thumb speed and expert battling skills.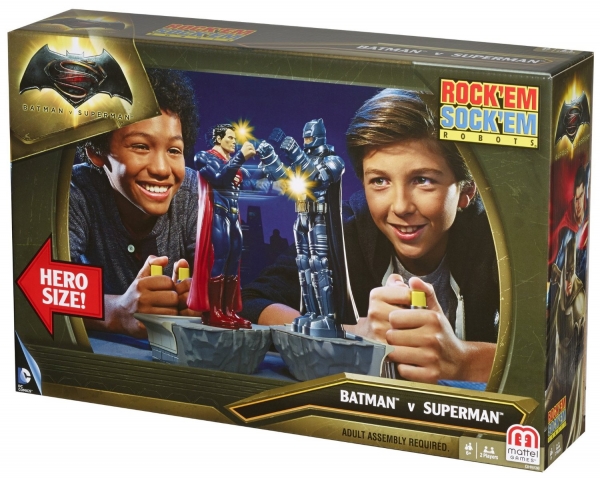 Get is
here
Also:
Superman Returns Rock 'Em Sock 'Em Robots
,
Masters of the Universe Rock 'Em Sock 'Em Robots
,
Toy Story Rock 'Em Sock 'Em Robots