Wednesday, February 22, 2012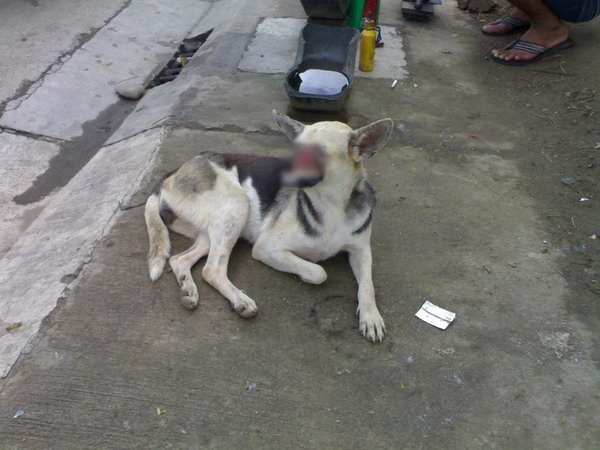 (
click on image to view unblurred
)
From
Dogheirs
:
Kabang, a small family dog, is being credited with saving two children from a dangerous collision when she threw herself into the path of a speeding motorcycle that was about to hit them in Zamboanga City, Philippines.

In December, cousins Dina Bunggal, 11, and Princess Diansing, 3, were walking across Nuñez Extension, and did not notice the motorcycle speeding towards them. All of a sudden, Kabang, the Bunggal's family dog, appeared out of nowhere and jumped towards the motorcycle.

Kabang saved two children from being hit by a vehicleThe dog's head landed directly on the motorcycle's front wheel and got her snout stuck in it, but her actions stopped the bike. The children stumbled, and the motorcyclist suffered a few bruises, but both the children and the motorcyclist were unharmed. Unfortunately, Kabang lost the top part of her jaw and face.

Kabang is being treated for her injuries by a veterinarian. She now uses her paws to eat and is back to her old self, playing with Dina and Princess.
Here
's a video
pic
via