Wednesday, May 5, 2010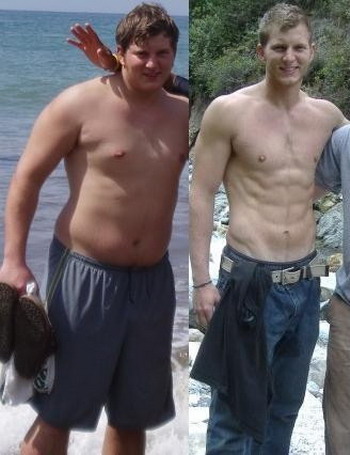 That's redditor
Rebar4Life
who got ripped in 18 months. He says:
It took about a year and half. Though it wasn't until after a year that I started really eating how I should have been all along- both what I was eating and how much.

I was 240 pounds and now I am about 165. I went from a 37ish waist to a 30. I was probably drinking my current caloric intake in beer before!

My basic rules was to eat whole foods. The other tip is "Hara Hachi Bu," which means "eat until you're 80% full." I guess this saying is from Okinawa, Japan (highest life expectancy in the world). I read this in Michael Pollan's In Defense of Food.

Routine was just running, lifting, and staying active generally.

You're looking for a lifestyle change, and you're looking for a new perspective on your relationship to food. That being said, I would highly recommend Michael Pollan's In Defense of Food. It gives some great insight into this.

Beyond reading and eating, I started running every day and lifting weights about 3 times a week. I also make sure to do something active for at least a half hour whether it be walking, playing frisbee, or killing invisible puddies.