Wednesday, January 27, 2010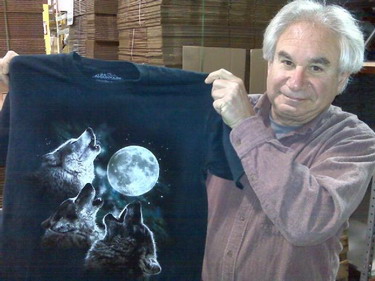 In New Hampshire.
State Hopes To Harness Power Of 'Three Wolf' Shirts
:
The Three Wolf Moon T-shirt has spent nearly 200 days on Amazon.com's Top 100 list. The shirt, which depicts three wolves howling at a moon, gained cult status after a satirical review was posted claiming it had the ability to attract beautiful women, among other powers.

Similar reviews were posted, and demand for the shirt grew until printing company The Mountain had to work overtime to handle the spike. The state Division of Economic Development said Tuesday it is designating the shirt the official T-shirt of New Hampshire economic development.

"The Mountain's Three Wolf Moon is a true New Hampshire success story," said Steve Boucher of the Division of Economic Development. "What started off as a tongue-in-cheek take on a cool T-shirt has resulted in worldwide acclaim for a very creative and growing Granite State business."

Boucher said an online campaign will be launched featuring local business officials and celebrities wearing the shirt. The Business Resource Center also plans to give Three Wolf Moon shirts to winners of its monthly "Innovation Rocks!" initiative, which recognizes the ingenuity of New Hampshire's innovation leaders.